Inspection and
Repair Services

Product Introduction


Free Fall Lifeboats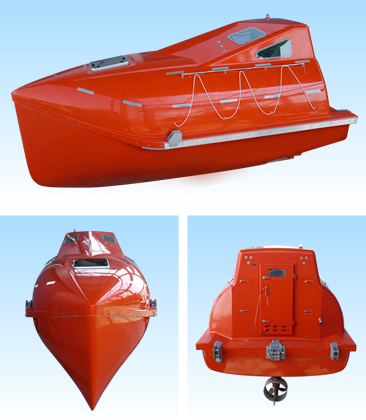 About our Free Fall Lifeboats
A free fall lifeboat is set with 30-35 angles in the stern of the mother ship.
When Simultaneous Release Gear attached to the stern of a mother ship is operated out of a lifeboat, it carries out free fall to the surface of the sea.
It is comparable to conventional lifeboat and to operate safely and quickly in stormy weather.
It was compulsory that a free fall lifeboat carries in the bulk carrier required of treaty of Chapter 9 revised on July 1, 2006.
The bulk carrier loads the cargo which specific gravity differs in many cases.
When the influence of waves causes damage to the hull, the sinking speed was fast.
In case of free fall lifeboats we can escape safely and quickly.
A free fall lifeboat is the lifeboat to which the demand of the rule as free fall lifeboats was satisfied in addition to the characteristic of a totally enclosed lifeboat.
Since it needs sufficient intensity which can be equal to the fall from height 1.3 times the height of a fall, it is the model of a ship which there is the feature in the form of a bow and pursued the intensity and safety.
In addition, a free fall lifeboat is, in order to aim and carry out free fall from a depot ship to a sea surface, the crew is getting in from a stern hatch.
It is considered that they except a manipulator suppress the shock which takes for a human body by sitting down for sterns at the time of fall as much as possible.