Inspection and
Repair Services

Product Introduction


Fire-Resistance Lifeboats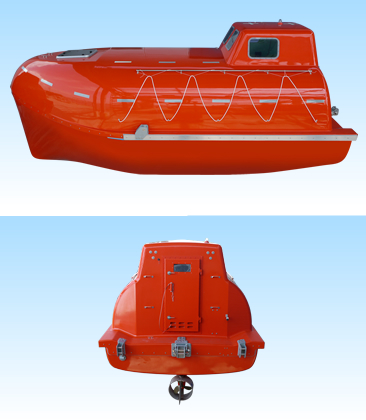 About our Fire-Resistance Lifeboats
Our fire-resistance lifeboats are equipped with watering equipment and an air feed unit in addition to a totally enclosed lifeboat.
It is generally carried in the ship which has the danger of fires, such as a tanker and a gas transport ship, and in order to supply the air consumed in 10 minutes (by persons and main engine) while it is assumed that it is required to escape from destruction-by-fire ocean space, the high-pressure air container is installed in this lifeboat.
For the purpose of preventing damage to the surface of the lifeboat by fire and the rapid rise of the temperature in a lifeboat when escaping from fire while at sea, the watering pump installed in the lifeboat is put into operation, a canopy is made to inject the sea water sucked up from the bottom of the lifeboat with a watering pipe, and the surface of a lifeboat is covered a water screen.